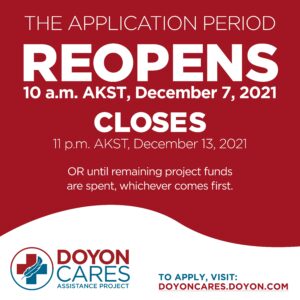 The application period is now closed.
The Doyon CARES Assistance Project (CAP) application will be REOPENED! If you missed the original CAP deadline, now is the time to apply! The application will go LIVE, at 10 a.m. AKST, December 7, 2021.
Applications will be accepted until 11 p.m. AKST December 13, 2021, OR until all available project funds are spent, whichever comes first. Completed applications will be processed in the order they are received.
Shareholders who previously applied and were approved are not eligible to receive further CARES funding.
PLEASE make sure to complete the entire application and provide an email address. Shareholders are responsible for completing the application entirely and on time. Doyon is not responsible for incomplete applications. Applicants will receive an email with a status update OR can check their application status online by logging in at: doyoncares.doyon.com.
Payments will be $1,200 per adult and $500 for each eligible shareholder(s) under age 18. Payments will be distributed on Wednesday, December 22, 2021.
THANK YOU to all the shareholders that have applied and especially those who have helped Elders, family, and friends.
If you have any questions or need assistance with the CAP application, please contact Doyon, Limited at 907-459-2080, 1-888-478-4755 ext. 2080 (toll-free), or email cares@doyon.com.
For more information, visit www.doyon.com/cap/.