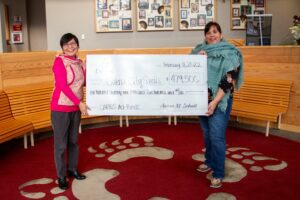 Doyon is a proud supporter of shareholder education and pre-k and secondary school students. In late 2021, Doyon distributed $3.2 million of CARES Act funds to interior school districts, including, Yukon Flats School District, Tanana City School District, Galena City School District, Iditarod School District, Alaska Gateway School District, Nenana City School District, and Yukon-Koyukuk School District. Doyon also gave to the Fairbanks North Star Borough School District and Effie Kokrine Charter School.
In the Department of Treasury's January 15, 2021, CARES Act guidance CARES Act recipients were able to provide up to $500 per student to school districts without any administrative burden and reporting requirements.
In August 2021, Doyon, Limited received $30.9 million in CARES Act funds. Half of the funds were distributed through the Shareholder CARES Act Assistance Project, and the remaining funds were spent on eligible projects that benefit our region, including funds to Tanana Chiefs Conference, Denakkanaaga, and Fairbanks Native Association.