Experience Denali National Park
We are looking for skilled and confident Doyon shareholders to work at Doyon/ARAMARK JV in Denali National Park.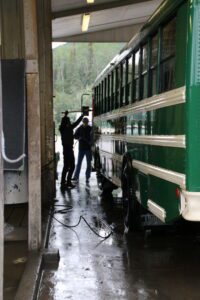 May – September Job
A May-September job at Denali National Park, one of Alaska's premier tourism destinations, is the perfect opportunity for those wanting an adventurous seasonal position. Acquire skills and experience something unique!
Positions Available
Cultural interpreters
Food service workers
Bus washers
Clean team/public areas
Retail agents
Reservation agents
Maintenance workers
CDL drivers
For more information or to apply, contact Doyon, Limited Human Resources at 907-459-2017.