Celebrating 50 Years
Doyon's 50-year anniversary will be June 26, 2022. As part of this celebration, Doyon will be sharing stories, highlights, and photos from past annual reports, newsletters, village corporations, shareholders, and leaders. To highlight your village or shareholders, contact Doyon Communications Department at communications@doyon.com.

Doyon Today, an excerpt from 1976 Doyon, Limited Annual Report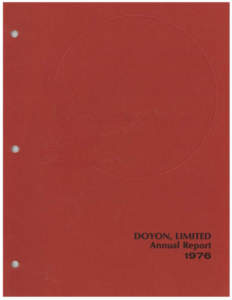 1976 was another year of challenge and that challenge was met successfully. The politics of ANCSA continued, adventuresome exploration programs were initiated, and we competed profitably in various businesses. Results for 1976 are encouraging and our outlook for the future is promising. Perhaps more importantly, however, the direction of Doyon for future years is being presented more surely than ever before.
Passage of the Alaska Native Claims Settlement Act guaranteed the Native people of Alaska land and money. Nothing more. There were no promises of success, no promises of a better way of life, and no guarantees for the future. It is the regional corporations who must address those problems. It is their responsibility. Implementation and interpretation of ANCSA problem areas are largely behind us. In 1976 more time was spent than ever before in addressing long-range policy issues for your corporation.
A logical development in the evaluation of lands was the consideration of exploration and development proposals. Four significant programs to further evaluate the selected lands were entered into and we expect to review and perhaps agree to others. In all cases emphasis has been placed on intensive in-the-field exploration. Summer field seasons are to be used to their maximum and winter evaluations will point the way to the next year's activity. Doyon, Limited is involved in the most massive exploration program interior Alaska has ever seen. We intend to maintain or quicken that pace in the future. Doyon, then, is committed to resource development.
While attention was being diverted by organizational activities of the Act and the land evaluation process, little time was available until recently for business and investment analysis. In 1976, investment and business decisions were made. Doyon made a financial profit-more money came in than went out-and we are in the process of considering other opportunities for the coming year. Do not, then, consider Doyon only an exploration and development company. Exciting business opportunities are available and the time to begin a serious review has arrived. Doyon intends to be an aggressive force in the business world.
Then too, the implementation of ANCSA has not been ignored. Many hours were spent trying to achieve title to the lands we have selected. We found it necessary to fight long and hard against irresponsible easement proposals and that fight is not over. More time was spent trying to clarify ANCSA provisions about sharing revenues from mineral and timber re­
sources and about what is considered taxable and what is not. This activity remains, as it must if we are to protect our entitlements under the Act, and Doyon, Limited is an acknowledged and respected guardian of Native rights under ANCSA.