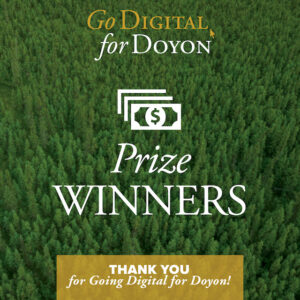 Congratulations to the following shareholders who opted in for e-delivery of Doyon materials and won $100 each!
Nathon A Blackburn
Michael R Fleagle
Trent K Jonathan
Roseanne M Kruger
Jess D Klassen-Frost
Talliyah M Butler
Chase N Harbaugh
Rebecca J Olin
Briana S Charlie
Jeanne A Woods
Shareholders who have previously opted in to electronic delivery with a valid email address were automatically entered to win. Shareholder record information must be valid and up to date to qualify for prizes.
Opt-in online at www.doyon.com/opt-in/ to receive future Doyon meeting materials via email.
Please contact Shareholder Records at (907) 459-2040 or records@doyon.com at any time to revoke consent and received mailed copy of annual report, proxy statement, and other information within 30 days.