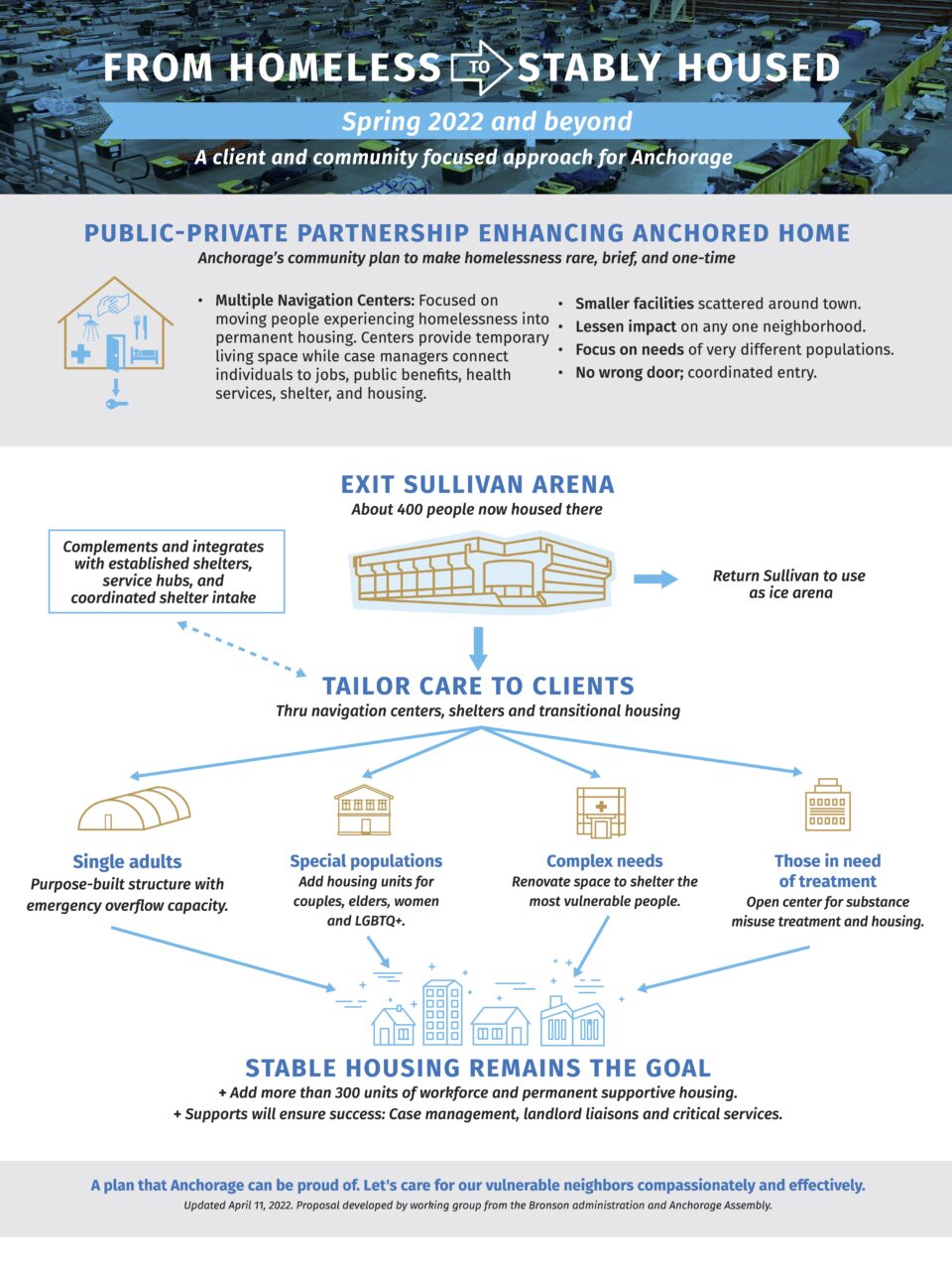 On April 25, the Rasmuson announced a $13 million dollar investment between public and private funders to address homelessness in Anchorage, Alaska, with Doyon, Limited contributing $247,000 of CARES Act funds.
"It would be almost impossible for just one entity to achieve this on its own, but together, both government and private entities, are able to achieve something impactful like this," said Tanya Kaquatosh, Doyon Senior Vice President of Administration. 
In addition to Doyon, funders include the Municipality of Anchorage, Alaska Mental Health Trust Authority, Calista Corporation, Chugach Alaska Corporation, Premera Blue Cross Blue Shield of Alaska, Providence Health and Services Alaska, Rasmuson Foundation, and Weidner Apartment Homes.
The result is a plan to move more than 700 people out of the Sullivan Arena and local hotels — temporary mass care that was necessary during the pandemic but is intended to end on June 30.
The group is pleased to announce four fast-track projects that together will house 500 or more individuals:
Complex care. Located at 303 W. Fireweed Lane in what was the Sockeye Inn, the facility includes 61 rooms including some doubles and will serve those with ongoing or unmet medical needs. It will open in June with Catholic Social Services as the operator. The sale closed March 30.
Navigation center and shelter for single adults. A shelter at Tudor and Elmore roads is intended to house up to 200 single adults with surge capacity for 130 more. The navigation center will quickly connect individuals to services and stable housing.
Workforce and permanent supportive housing. A facility at Fifth Avenue and Cordova Street will provide stable housing in 130 rooms. Some individuals will double up. A purchase agreement is pending.
Residential treatment center for those with substance misuse disorders. A facility to be run by the Salvation Army is under renovation at 660 E. 48th Ave. The center will house up to 68 individuals.
These projects will serve four of the five specific populations identified by the workgroup and ensure the comprehensive approach sought by funders. A project being developed separately will address the fifth area of need, specialized populations that include couples, women, LGBTQ+ individuals, and the elderly.
Photo: April 25, 2022 press conference