Doyon's 50-year anniversary will be June 26, 2022. As part of this celebration, Doyon will be sharing stories, highlights, and photos from past annual reports, newsletters, village corporations, shareholders, and leaders. To highlight your village or shareholders, contact Doyon Communications Department at communications@doyon.com.
The following was submitted by Christopher Simon, K'oyitl'ots'ina, Limited
K'oyitl'ots'ina, Limited was created in 1979 when the leaders of the Koyukuk River merged the village corporations of Aala Kaa Ka, Alatna Endeavors, Bin Googa, and Hadohdleekaga into one consolidated entity. A contest was held to name the new corporation, and the late Esther McCarty proposed "K'oyitl'ots'ina" which means villages along the Koyukuk River. The villages that banded together to pool their talent and resources are Huslia, Hughes, Alatna, and Allakaket since there has always been a close relationship between the four communities. Another example of working together is when the communities took turns hosting the Koyukuk River Championship every spring.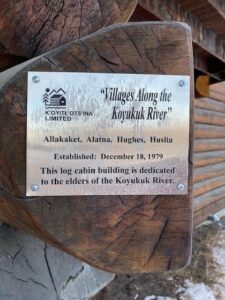 K'oyitl'ots'ina, often referred to as "KCorp" is governed by a nine-member board of directors, two from each constituent village along with an at-large member. KCorp has a long history of focusing on business first so the company will provide benefits to all shareholders. In 1979, it was agreed by the founders that any land development or land disbursement would be discussed with the Native villages of Allakaket, Alatna, Hughes, and Huslia, depending upon which original corporation was deeded the title. The first corporate office was located in Huslia, then eventually moved to Fairbanks. The current office is on College Road in the widely recognized three-story log cabin. This cabin was built in 1983 when the Board decided it was wiser to own than to rent. There have been a number of renters at the current location but in the early 1990s KCorp took over the entire building for operations. The beautiful log building is dedicated to the elders of the Koyukuk River.
KCorp went into a variety of business ventures in the last forty-one years and currently owns several subsidiaries, focusing primarily on fire prevention and suppression services along with Federal Government contracting at this time. In addition, the company has an investment account.
An ANCSA Settlement Trust was created in 2018 to benefit shareholders with scholarships, potlatch benefits, monetary disbursements, and a donation to the spring carnivals. Currently, opening enrollment to descendants of the Koyukuk River is recognized as a high priority and the Board plans for a shareholder vote in the spring of 2023 on this issue. K'oyitl'ots'ina and its shareholders look forward to the next fifty years of ANCSA!