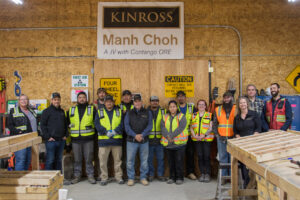 The Manh Choh Project is a joint venture gold project with Kinross being the 70% majority operator and voice of the project, and Contango ORE being the 30% minority owner. The Project, once referred to as "Peak", was renamed Manh Choh by the people of Tetlin and it means "big lake".
It is an extremely unique project because the tribal government is the landowner and has been the champion for developing their resources. In 2008, late Tetlin Chief Danny Adams invited an oil executive to visit Tetlin and gauge whether or not there was oil and gas potential on Tetlin lands – it turns out there wasn't, but there was mineral potential. Chief Danny was a well-respected Tanana Chiefs Conference Executive Board member and a visionary leader in the Upper Tanana region. Tetlin's land ownership is unique because the tribe established fee simple title to a substantial amount of land, both surface and subsurface, through a series of forward-thinking and progressive legal actions including a presidential order from the United States President. As a result, Tetlin tribal members are not shareholders in Doyon and are not eligible for scholarships or dividends.
The tribe will receive royalties and the most direct benefits of any development on their land, including training and infrastructure improvements. The Project, after asking the Tetlin Council what type of legacy project might be of the highest need in the region, has also committed to building a fully functional elder's home on tribal land, after mining ends.
Chief Danny saw the potential for securing a long-term source of operating funds, employment opportunities, and infrastructure support for Tetlin tribal members. He saw the need for a long-term economic driver for his community and tribal members. Tetlin is a culturally grounded community – with the cost of living challenges and lacking basic infrastructure such as running water in their homes and internet connectivity to name a few. There is a strong and capable workforce, with very few employment opportunities that will allow tribal members to stay in Tetlin.
In Chief Danny's words, "with the mining of minerals, the point I am trying to make is that if you sit back then you get nothing. You have to go out and venture but if you don't find anything then it doesn't mean you give up." (Chief Danny Adams, 2015) He knew economic opportunities of this scale would not happen without effort, and you must never be deterred or give up on building economic sustainability.
Chief Michael Sam was elected in 2015, and he has been an unwavering champion from day one. He is an avid hunter and provider for his community. He fully understands the critical need to develop Tetlin's gold resources in an environmentally sound manner. When Kinross announced their plans to truck the ore to Fort Knox and eliminate the tailings facility and processing plant on Tetlin tribal lands, Chief Sam was appreciative and excited for that change.
Since 2009, Tetlin tribal residents and people from surrounding communities have been hired for exploration drilling. The project has maintained a commitment to maximizing local hire at every phase. Key decision-makers have held meetings in Tetlin and surrounding communities from the beginning. Manh Choh aims to secure major state and federal permits this year and begin production in 2024. Training and hiring as many local residents from the Upper Tanana region to fill the expected 400-600 jobs is one of the highest priorities for Manh Choh.
Please contact Anna Atchison, Director of External Affairs (Anna.Atchison@Kinross.com), or Tiffany Silas, Community Relations Coordinator (Tiffany.Silas@Kinross.com) for more information.