Doyon Foundation and Doyon, Limited held the 22nd Annual Morris Thompson Memorial Golf Classic on June 22 and 23, 2023.
Golfers warmed up at the skills tournament on Thursday, followed by a reception and Calcutta, where participants heard from student speaker, Geoffrey Bacon, and raised money for the Doyon Foundation scholarship fund.
On Friday, 30 teams of four joined us for 18 holes at the Chena Bend Golf Course.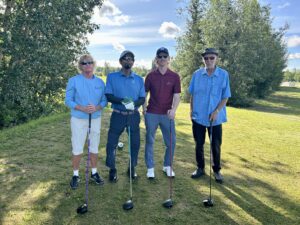 1st Place Tie – Team 2 and 30
Michael Huston, Yuri Morgan, Brian Ridley, and Scotty Watkins
Milo Griffin, Deanna Dieringer, Jim Schene, and Derrick Dieringer (Pictured right)
3rd Place – Team 25
Bruce Laiti, Derrin DeBaun, Eddy McNabb, and Derrick Bradish
4th Place Tie – Team 8 and 22
Aaron Roth, Peter Bullen, Patrick Duke, and Matthew Hill
Otto Hansen, Woody Wallis, Michael Sullivan, and Kace Sanders.