Every year Doyon, Limited recognize a few shareholders as "Shareholder of the Year" at our Annual Meeting of Shareholders. In 2022, Doyon recognized Corrina Cadzow, Laura Ekada, Jamie Benton, Gregory Patsey, Darren Hildebrand, Kimberly Bower, and Henry Beatus, Sr., as outstanding shareholders who have demonstrated their devotion toward their people, displayed strong leadership, and shown significant commitment to the betterment of their communities.
---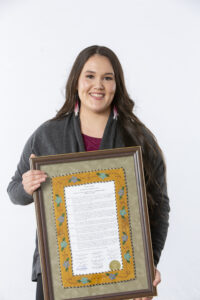 Corrina Cadzow is the daughter of Jimmy Jay Cadzow and Diana McCarty of Fort Yukon. She has five brothers: Cody, Tyler, Ashley, Russell, and Hunter. Corrina's maternal grandparents are the late Annette and James McCarty and her paternal grandparents are the late Margaret Cadzow and Clifton Fairchild. Corrina and her partner, Wade Fields, live in Fort Yukon with their three daughters: Ava, Aria, and Paige.
Corrina has worked for the Council of Athabascan Tribal Governments (CATG) for the past 11 years as a Dental Health Aide Therapist (DHAT). She travels throughout the CATG region providing dental services. Before becoming a DHAT, she held several jobs within CATG ranging from receptionist, travel coordinator, dental assistant, and volunteer on the Emergency Medical Squad (EMS). After going to dental school, Corinna asked to also be trained as an Emergency Medical Technician (EMT).
After becoming an EMT Corrina served as a volunteer on the EMS for seven years before it became a paid position in 2021. As the only EMT, Corinna worked on call over 300 days during the COVID-19 pandemic. Being an EMT in a village is difficult, as patients are either a friend or family members. While many EMTs do not last due to the tough nature of the job, Corrina is dedicated and honors her commitment. Though it is demanding and overwhelming at times, she is always there to help.
In 2020 Corrina was elected to the Gwitchyaa Zhee Gwich'in Tribal Council. Corrina advocates for tribal services, housing, cultural activities, and community infrastructure. After serving just one year on the Council, she was honored as the 2021 Council Member of the Year.
Corrina serves on the Fort Yukon Spring Carnival Committee and coordinates the community Halloween Carnival, Youth Fiddle Dances, the St. Stephens Church Christmas play in addition to many other community activities. Corrina works hard to fundraise year-round so the youth can experience healthy and fun events in their community. Corrina is a vocal advocate for the community and demonstrates leadership in helping those in need.
In 2018 and 2019 Corrina received Volunteer of the Year awards from the Gwitchyaa Zhee Tribe. She was recognized as a role model and represents a healthy, family-friendly lifestyle in the community through her actions and words. Corinna and her family practice a healthy traditional lifestyle by actively fishing, hunting, and berry picking. She is a powerful young role model, employee, and volunteer and continues to lead by example.
---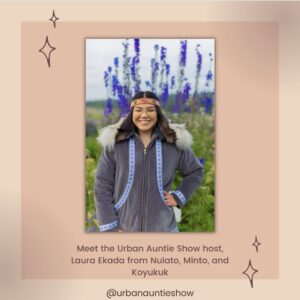 Laura Ekada was born in Anchorage to John Ekada and Misty Carlo-Riley. Laura's Denaakk'e name is Deloodeneeła which means "cute little girl," given to her by her grandmother Madeline Riley. Her family is from Nulato, Minto and Koyukuk. She was raised in Minto by her grandparents Rocky and Madeline Riley. Her great-grandmothers are Patricia Ekada and Josephine Riley. Laura learned early on from her grandmother Madeline, a retired teacher, that education is important.
Laura graduated from Mt. Edgecumbe High School in 2018. She was a successful wrestler and helped her women's wrestling team win state championships four times and Laura placed third twice. Laura was awarded the 2017 Women's Wrestling Most Valuable Wrestler award and the 2018 Mt. Edgecumbe Lillian Lane Award. After high school, Laura attended Umpqua Community College in Oregon and received her Associate of Arts in Science and Mathematics in June 2020. Laura competed in cross country and track and field and was frequently on the President's List honor roll.
Laura is a senior at the University of Alaska Fairbanks (UAF) pursuing a bachelor's degree in biology with a concentration in biomedical sciences. She plans to attend medical school to become a physician. Laura was taught the importance of giving back to her community, so she made it her goal to help people in rural Alaska. She is passionate about research in reducing health disparities among Indigenous people and people and other minorities. Laura is a UAF Biomedical Learning and Student Training scholar. She is researching the ways the COVID-19 pandemic affected the village of Huslia and how the village uses cultural resources to cope with the pandemic. In 2021, she completed an internship in the Maternal Child Health Careers/RISE-UP program public health leadership training which focused on the elimination of health disparities and the promotion of health equity. Laura was selected for the National Academy of Future Physicians and Medical Scientists Award of Excellence for outstanding grades, leadership potential, and determination to serve humanity in the field of medicine.
Laura continues active community involvement while she attends UAF. She is a Diversion and Inclusion Peer Educator at the Nanook Diversity and Action Center where she works to promote social justice, inclusion, and diversity. She created a radio show and podcast to promote healthy living, called the Urban Auntie Show. Laura uses this platform to highlight Alaska Native issues and topics and to uplift the voices and experiences of Alaska Natives. She is active in the Center for Native American Youth Aspen Institute as a Democracy is an Indigenous Organizer and Generation Indigenous Ambassador. She actively works to get out the Native vote in local, state, and federal elections and connects and engages with Native youth across the nation. The Democracy is the Indigenous program has helped develop her leadership and advocacy skills.
Laura is proud of her Athabascan culture. She seeks out and embraces opportunities to learn and engage in Alaska Native topics and issues. She was First Runner-Up in the Miss World Eskimo-Indian Olympics 2021 and won Best Public Speaker. She has competed in Native Youth Olympics and placed second in the stick pull. She enjoys beading, Native singing and dancing, reading, running, and painting.
Laura understands the importance of investing in the next generation and spends much of her time volunteering as a "Big" with the Big Brothers and Big Sisters Program in Fairbanks. Laura has a strong but quiet presence and is humble about her many achievements. She is kind-hearted and cares deeply about her community.
---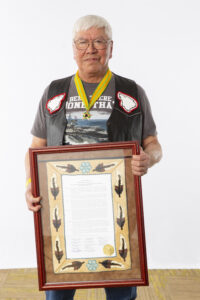 Gregory "Greg" Andrew Patsey was born to the late Maryana and Justin Patsey Sr. of Nulato. His grandparents are the late Bernadette and late Theodore Agnes of Old Louden and the late Lena and late Charlie Wholecheese of Old Louden. He is married to Clara, and together they have four children: Rachel (retired Navy), Tiffany, Theodore (active-duty Navy), and Agnes. He attended Copper Valley School, a Catholic boarding school in Alaska that closed in 1971.
Greg enlisted in the United States Navy on December 12, 1970, and served as an Aircraft Mechanic on an Aircraft Carrier in the Gulf of Tonkin and the South China Sea during the Vietnam Conflict. He soon earned the rank of Quality Inspector. He served in the Persian Gulf during the Arab-Egyptian War in 1973. He was honorably discharged from the United States Navy on May 12, 1975.
Greg enlisted in the Alaska Army National Guard in February 1977 as a Radio Operator for the 207th Infantry Regiment (INF) Group (Scout), and then later served as an Infantryman in Company D 1st Battalion (Scout) 297th (INF) in Nulato. In 1984, he joined the Active Guard Reserve Program serving as the training Non-commissioned Officer (NCO) for Company D 1st Battalion (Scout) 297th INF, and then served Advanced Non-commissioned Officer Course as the Readiness NCO. He was promoted to First Sergeant for Company A 1st Battalion (Scout) 297th INF. He was responsible for 11 detachments along the Yukon River in rural Alaska. He successfully trained and led his Company for many years. He retired from the Alaska Army National Guard in 2000.
Greg served his country and community for over 27 years, during which he showed many leadership skills. He was awarded the 1st Battalion NCO of the Year and Senior NCO of the Year in 1996, The Alaska Legion Merit Award presented by Major General Phillip Oates, Army Service Ribbon, National Defense Service Metal with Bronze Star, Vietnam Service Medal, Army Reserve Component Achievement Medal 2nd Award, NCO Professional Development Ribbon with Numeral 3, Armed Forces Reserve Medal 2nd Award, and Army Commendation. He continues to be involved within the military community by being the contact person for family members in the Interior of Alaska when they lose a loved one that had served in one of the military branches. He assists the military families with benefits, the salute, procedures, and often travels to the village holding the burial to help with the process.
after retiring from the Alaska Army National Guard in 1990, he started working for the City of Nulato as the Water Plant Operator. During this time, he received Statewide Operator of the Year and 3 Regional Operator of the Year awards. Greg volunteered his time to the community of Nulato serving as the leader of the Search and Rescue where he went on countless life-saving missions along the Yukon River. He was involved with the youth culture camps where he safely transported groups to and from camp locations. He continues to provide for his family through subsistence hunting and gathering where he also involves his four children.
---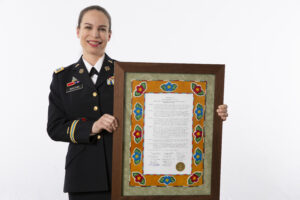 Jamie Allison Benton (Denizoonh) was born to Helen Andon Stafford of Tanana and Vernon Lee III of Fairbanks. Her grandparents are Rev. Helen Peters and the late Hardy Allen Peters of Tanana and the late Vernon Lee II and the late June Lee of Stockton, California. Major Benton is the great-granddaughter of Elijah and Helen Joseph of Tanana. Jamie is married to Thad Benton (retired, Army) and is the mother of Israel and twins Elsa and Nora.
Jamie comes from a large and traditional family in Tanana and graduated from Tanana High School in 1996. During her early career, and in addition to working for the military, she continued her education and earned the following degrees: AA. General Program, University of Alaska, Anchorage, 2001; AA. Criminal Justice, Community College of the Air Force, 2003; B.S Criminology and Criminal Justice, Portland State University, 2006; and M.S. Criminology and Criminal Justice, Portland State University, 2008.
Major Benton has served our country as a member of the Armed Forces for 23 years, beginning in 1999, and has achieved the rank of Major. She started her career in the United States Air Force and served in Korea, Italy, and Shreveport, Louisiana. After completing her tour with the Air Force as a Security Force Airman, she worked in the Air Force Reserve JAG Division as a paralegal. Deciding that the military would be her lifelong career, she commissioned the United States Army Reserve as it provided her with the upward mobility she was seeking. She deployed to Combat Operation Post Adder, Iraq in 2011 under Operation New Dawn.
Major Benton served as the Analytical Control Element (ACE) Deputy Chief for the 301st Military Intelligence Battalion in Phoenix for five years and was responsible for 100 all-source, geospatial, signals, human, and counterintelligence soldiers distributed across three companies within the battalion. She managed the intelligence cycle to answer the priority intelligence requirements of the Commanding General, U.S. Army Pacific (USARPAC) within the battalion's specified area of responsibility. She developed and refined Reserve integration with the USARPAC ACE using a full-time intelligence section of 10 soldiers and a drilling contingent of 65 soldiers to provide remote operational intelligence support. Her Commander wrote that Jamie "…is the epitome of the Army values and uses her principles-based life to foster an atmosphere of family and unity within the ACE while striving for excellence during day-to-day operation and focused mission requirements.
Major Benton returned to Anchorage (JBER) in 2019 to serve as the Operations Officer for the 3rd Mobilization Support Group comprised of a group headquarters, three battalions, and two detachments located in Guam, Hawaii, and Alaska.
---
Darren Thomas Hildebrand was born and adopted in 1983 into a loving family by the late Eddie and Annie Hildebrand. He has raised alongside his siblings: Eleanor, Ida, Miranda, Trudy "Dumplings," Charlene, Diane, late Brian, and Vernon. Darren seamlessly blended living a traditional and subsistence lifestyle with that of the western way. He learned to hunt, trap, and fish from the time he could walk and still participates in his cultural practices along the Yukon while raising his family and working. Darren is married to Janice and they are raising their daughters Natalie, Aliyah, Kylie, and Amaya. Darren and his wife Janice are raising their four daughters in Fairbanks and enjoy watching them participate in various sports such as baseball and basketball.
Darren was raised with the "can do" spirit of independence and adventure by his parents, and during his senior year of high school, Darren committed to join the Air Force. In 2001, he started active duty as a tactical aircraft maintenance specialist on F-15 aircraft. His first base was Mountain Home, Idaho from 2002-2005. He was then transferred to Elmendorf Air Force Base where he served from 2005 to 2008. While at Elmendorf, Darren served temporary duty at the U.S. Airforce Base in Guam, where he was assigned to an operation in Osan, South Korea. Darren was part of a crew that flew 24/7 to demonstrate a show of force when North Korea first started its missile testing.
Darren decided to leave active duty and joined the Air National Guard in 2008. He served with the 176th Unit as a mechanic technician. His unit was responsible for the rescue response for the State of Alaska during medical situations and search and rescue out in remote communities. He prepared aircrews for takeoff, starting engines, removing ground equipment, and marshaling them for takeoff. He stated, "I was involved in more missions than I can remember." While serving with the 176th Unit, Darren was deployed twice to Bagram Air Base in Afghanistan during Operation Enduring Freedom. He was an aircraft maintenance technician on HC-130 aircraft.
Darren decided to take a different direction in his career and resigned from his Technician position with the Alaska Air Guard in September 2012. He joined Doyon drilling through the roustabout program and quickly made it to floorhand. He worked with Doyon Drilling until the opportunity he had been waiting for arrived.
In 2017, Darren started with Alyeska Pipeline Service Company as a mechanical technician where he works two weeks on and two weeks off. During his time off, he continued to serve part-time with the Air National Guard as a Drill Status Guardsman until he transferred to the 168th Unit at Eielson Air Force Base and now works as a KC-135 aircraft maintenance technician. Darren will remain with the 168th Unit until he retires later in 2022. He previously worked with Doyon Drilling as a Roustabout.
---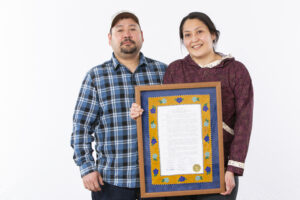 Kimberly "Kim" Rose Bower was born and raised in her hometown of Nulato to the late Joyce and late Victor George, Jr. Her siblings are Gloria, Edward, Audrey, Esther, and late brother Victor. Her grandparents are the late Gertrude and late Victor George, Sr. of Nulato, and the late Frederick Stickman, Sr., and late Christine (McGinty) Demoski of Nulato. Kim is married to Joe Bower and together they have four children Chad, Tyler, Joe II, and Anna.
Kim and Joe epitomize the Poldine Carlo Citizen of the Year Award's best qualities. Their journey started in Nulato where they were high school sweethearts and lived an all-subsistence lifestyle. Together they spent most of their time enjoying the culture, traveling throughout Kaiyuh and the Interior, and hunting and trapping. Kim and Joe learned important lessons and heard many stories on their journey from respected Elders and community members. They show their appreciation and respect by passing these valuable lessons and stories on to the next generation.
Kim started her journey in the health field early on as a young adult. She was provided an opportunity to work alongside the Nulato health aides and gain invaluable knowledge and training. During this time, Kim realized her passion was in the health field and decided that she needed an education to better serve her community and people. Together with their children, they relocated to Fairbanks where both Joe and Kim enrolled in school and began building their own home. They finished school in the same year and Kim received her nursing degree.  Kim began working for Fairbanks Memorial Hospital as a registered nurse, then later at Chief Andrew Isaac Health Center where she continues to provide health services and education to Interior residents.
Kim and Joe are passionate about sharing their traditional and western knowledge through mentoring young adults from the village. While keeping busy providing career guidance, training, and housing, they always share their own educational experiences in college and the vocational trades to educate those around them. Joe and Kim keep an open door for anyone that needs help of any kind.
Kim and Joe demonstrate a strong commitment to their community through their cultural involvement in Nulato. To continue their subsistence lifestyle, they found it important to build a family smokehouse in Nulato and a cabin on the traditional hunting lands in Kaiyuh. Their careers have provided them the flexibility to travel and maintain cultural ties to their subsistence lifestyle through fishing, trapping, and living off the land. Joe and Kim pass down the cultural knowledge from their Elders to their children and instill the value of hard work. Nulato will always be home to Joe and Kim, where they continue to lead our youth by example in teaching, sharing, and living a healthy lifestyle.
Kim saw the importance of her village corporation and the role it plays in her community. It was there that Kim committed her time and energy as the director, president, and chair of Gana-A'Yoo, Limited for many years. After her successful board service, she decided to focus on her family. Kim holds her family at her core, sharing education, commitment, and traditional values with the next generation. 
---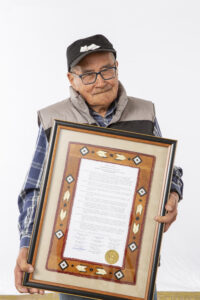 Henry Beatus, Sr. was born to the late Fred and to the late Helen Bifelt in Hughes on the Koyukuk River. His maternal grandparents were late Ida and late Leon, and his paternal grandmother was late Annie. Henry was culturally adopted by his grandmother Ida and her husband, late Little Beatus after the death of his mother Helen. He had two siblings, the late Cue Bifelt and the late Annie Vent. Henry has numerous younger siblings from his father, the late Fred Bifelt. Henry was raised alongside his grandmother Ida's children, including late Joe Beetus, late Martha Oldman, late Susie Williams, and late Maggie Nicholia.
Henry learned how to live a subsistence lifestyle from his grandmother Ida and grandfather Little Beatus. He grew up fishing, setting traps, and hunting. He also learned to make things like sleds, fish traps, and smokehouses by watching his grandparents.
Henry married late Sophie Koyukuk in 1952, and they had twelve children: Almira, Miranda, late Norman, Hazel, late Gerald, late Ron, late Ruth, late Ray, Cynthia, late Henry Jr., late Sandra, and Ryan.
Henry is hard working. In his 90 years, he has been employed by the school in Hughes, on river barges, at mining camps, and as a construction worker. Henry also served as the Chief of Hughes in the 1980s.
Henry is resourceful. He built many homes and structures in Hughes. He created a space for himself, where he has a smokehouse, freezer house, caches, and a place for his firewood. He also likes to make campfire tea from the water he gets from his rain catchment system.
Henry loves dogs and dog mushing. In 1975, he ran and completed the Iditarod. He also participated in shorter races, like the Fur Rendezvous in Anchorage and races along the Koyukuk River. To this day, he still travels to Fairbanks every year for the Open North American Championship. He has one dog, Blue, that keeps him company in Hughes.
Henry continues to live off the land – he cuts and hauls his own wood, fish, hunts, and traps. Through his actions, he inspires the younger people in the village to work hard and be self-sufficient. Henry prides himself on his independence; he currently has enough firewood for two years.
Henry leads with quiet strength and humility. He learned from his late grandfather Little Beatus to always speak good words about others, and to not boast about himself or his family. In the last five years, he has experienced numerous losses: his wife, two sons, and a daughter. Yet, each day he continues to get up and be productive, showing the younger generations how to be strong.