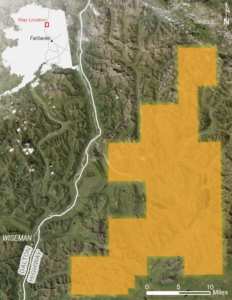 In the formative years of Doyon's land selections, early leaders identified lands in the Wiseman area for its mineral potential and opportunities such as, employment and training. Doyon's Management team and Board of Directors are pleased to announce that Doyon has signed a mineral exploration agreement with Wiseman Metals on these lands.
This is an early-stage mineral exploration for gold, silver, copper, and zinc in an area with more than 290,000 acres of Doyon surface and subsurface lands. Early phases include geophysical data analysis, geochemical surveys, and core drilling.
Wiseman Metals is a wholly owned subsidiary of Mine Discovery Fund, which is an Australian based minerals exploration company. Both companies have strong technical geological teams and extensive experience operating throughout North America.
Wiseman Metals has committed to contributing funding for scholarships for eligible shareholders interested in attending GeoFORCE Alaska and the Alaska Native Science and Engineering Program.
As the project continues, information will be shared on Doyon's website, social media channels, and in the shareholders newsletters.
For more information, please contact the Lands and Natural Resources Department at 907-459-2030 or lands@doyon.com.