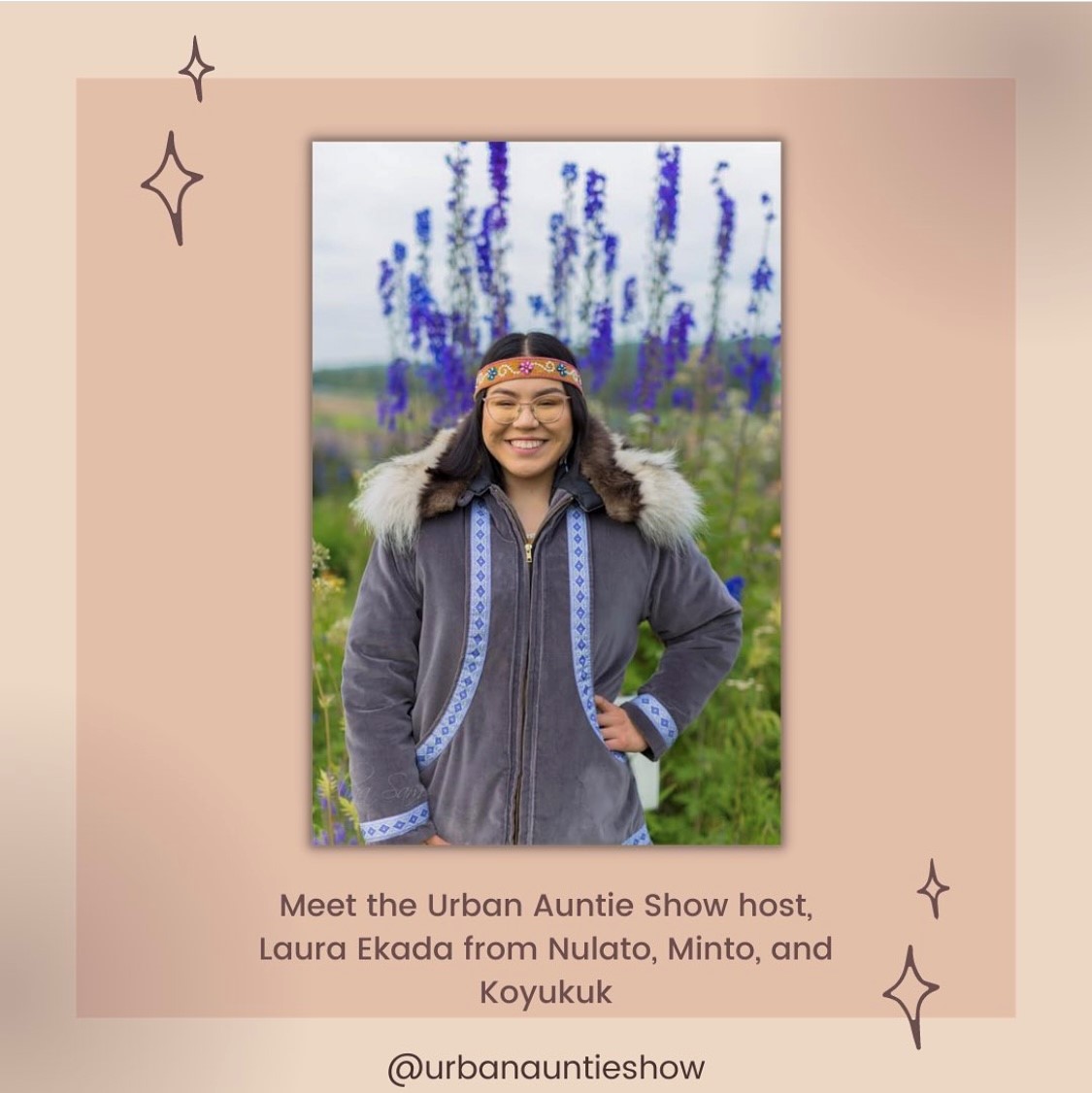 Laura Deloodeneenła Ekada (she/her) is a senior at UAF studying biology with a concentration in biomedical sciences and a goal of becoming a physician serving rural villages. After working at Chief Andrew Issac Health Center when she was 15, Ekada became passionate about becoming a doctor and working to decrease the health disparities Native people experience.
Ekada's family is from Koyukuk, Nulato, and Minto, where she has taken part in the cultural traditions of each place. She was raised in the small village of Minto by her grandparents and has memories of staying up late on potlatch nights singing and dancing in the community hall. She helped her grandma set up a memorial potlatch in Koyukuk. She also enjoys spending holidays in Nulato and participating in activities like the washtub dance. In Minto, she enjoys sewing mets'egh hoolaanhs and cooking Native foods with her grandma, and following her grandpa to the dog yard. Her favorite cultural activities are eating traditional foods, snowshoeing, and beading.
Ekada graduated from Mt. Edgecumbe High School in 2018. She wrestled, ran cross country, and competed in track and field for Umpqua Community College for two years. She is the 2021 first runner-up Miss WEIO at the World Exhibition of Indigenous Events.
At UAF, Ekada is a BLaST scholar. She does research with Dr. Jacques Phillip. Her research interests explore fostering resilience in Native youth. She is the president of the UAF beading club and the Troth Yeddha' Dance Group. She is a Peer Educator at the Nanook Diversity and Action Center where the mission is to uplift people of color and promote diversity and inclusion on campus.
At Doyon's 2022 Annual Meeting of Shareholders, she received the Chief Andrew Isaac Leadership award.
Ekada hosts a podcast called "The Urban Auntie Show." This show covers Alaska native topics and issues all around Alaska, the goal is to educate people on indigenous culture.
"Since I could remember, Laura has always been an amazing person who is deep into her culture," said Jaylein Kriska, who nominated Ekada. "She has made memorial songs in memory of her loved ones starting as a young woman."
---
Doyon welcomes nominations for the shareholder spotlight featured in the Doyon newsletters. Submit a nomination form today!