Celebrating 50 Years
Doyon's 50-year anniversary is June 26, 2022. As part of this celebration, Doyon will be sharing stories, highlights, and photos from past annual reports, newsletters, village corporations, shareholders, and leaders. To highlight your village or shareholders, contact Doyon Communications Department at communications@doyon.com.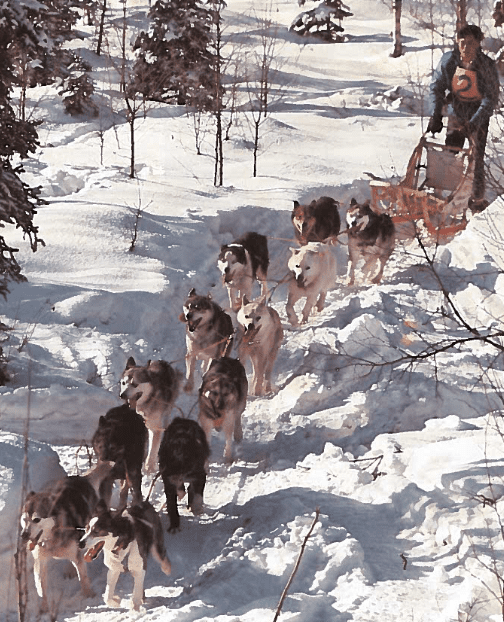 Messages to Shareholders, an excerpt from the 1990 Doyon, Limited Annual Report
It is with genuine pleasure to once again report the results of another successful year to our shareholders. In reviewing Doyon's accomplishments during 1990, I feel we are continuing to move closer toward our mission of "enhancing our position as a financially strong Native corporation in order to promote the economic and social wellbeing of shareholders and future shareholders…"
Our 1990 profits of $10.3 million made this the third most profitable year in Doyon's history. Six consecutive years of profitability and a commitment to business excellence and shareholder involvement position us for an even brighter future in the decade ahead.
To celebrate our continuing success and the proud spirit of Doyon, we take this opportunity to dedicate the 1990 annual report to dog mushers and their teams. Dog mushing has long held an important role in Alaska's history and culture. For centuries it served primarily as a key source of transportation. Today, professional dog mushing has developed into a sport cheered throughout the world. Since the beginning of mushing competition, Doyon shareholders have been champions of the sport. Their commitment reflects generations of tradition and culture. Doyon salutes their courage, determination and continuing achievements as the tradition continues.
Summary
Doyon enjoyed an excellent year in 1990 and future prospects remain bright. Our existing businesses are growing, mineral exploration activities are at an all-time high, and we are actively exploring new business opportunities. Our board, management, and staff are working in unison to further both the business and social objectives of the corporation.
Like the driver of a competitive dog team, Doyon must know our course and remain flexible to meet the challenges. As a leader, Doyon must rely on cooperation, knowledge, and instinct. As we enter an exciting new decade in Alaska, we are convinced that Doyon is prepared to make the most of the opportunities and challenges that come our way. However, our goals will only be met with the active support of our shareholders. We look forward to working with you to make the 1990s even more successful.
Morris Thompson
President and C.E.O.